It's hard to imagine what video games will be like in 10 or even 5 years from today, but it's safe to say that now is a very exciting time for the industry. We see lots of new technologies emerge that can possibly reimagine the way we play, interact with each other and experience things. Among them is Oculus Rift, the virtual reality head-mounted display. You've probably heard a lot about this revolutionary platform, it's all over the news, but have you ever imagined what it could be like playing an adult game with it's virtual reality experience? Well, wonder no more, because we have a game that officially supports it along with some other popular sex toys! And you can try it today!
So what exactly is 3DXChat? It's one of the most advanced and innovative adult-oriented massively multiplayer online games (or MMOs) on the market. It's literally a dream game if you're looking for a social experience. It lets you hang out with other people from around the globe, be anyone and do anything you want, all kinds of sex included. Oculus Rift support makes it a de-facto leader among other adult games.
3DXChat is being developed by the renowned Sex Game Devil, the studio responsible for such amazing 3D Sex/Adult PC games as Nemo's Whores, Venus Hostage, Juliet Sex Session and others. We have reviewed some of their titles on our blog, so if you are interested, go check the reviews archive. One thing is true about these guys, they do make some graphically impressive games of outstanding quality. Some of them may be lacking in content or story (like Julia Sex Session) [seriously guys, who needs a story in a porn game?], but you always know they'll blow your mind when it comes to the looks. I guess, it's their trademark. In fact, they provide Julia Sex Session as a free demo so that you could see how their technology works on your PC. We highly recommend you do that if what is written in this review is not enough to convince you to shell out money for one of their subscription plans. It's a great move from the developers, as we rarely see any demos these days.
Let's talk about some of the game's features
First of all, character creation and customization. As of now, you can make up to three different characters, male or female and switch between them. If you are looking for more options gender-wise, they actually promise to add transvestites later on. All models are highly detailed and have enough options to satisfy any gamer seeking to create their avatar based on their own looks. You can choose between numerous appearance options (such as hair color, eyes color, haircuts, body shape, breast size, etc). There are hundreds of cosmetic and clothing items you can try on… heck, you can even edit them or create your own clothes. And more content is being added with patches regularly.
Gameplay Video:

All players have their own apartments they can use in multiple ways. You can create your own interior design – decorate it, add or move furniture items (sofas, tables, beds, chairs, etc.) however you like, you can interact with all of that. Invite people over to spend some time with you, or just get your partner for a cup of tea and a more intimate experience. If you want to know more of how sex works in this game or have a little practise before the actual thing, you can always order a bot to your apartment and polish up your skills.
The game world consists of a number of different locations you can freely travel between. There are beaches, nightclubs, bdsm clubs, yachts and more, available to you 24/7. And it's a big deal. They all look so amazing, that you want to just walk around and check out the environments. 3DXChat aims to please everyone, so If you prefer men over women, there are specific places you can go to. Each location has it's own general chat, but you can always switch to a private channel whenever you like.
What else makes this game so incredibly awesome is how it looks. The graphics and animations are just stunning, so life-like that you won't believe they aren't real. The developers actually hired porn actors to record their moves using the famous Motion Capture technology. And if you are a lucky owner of both Vstroker and Oculus Rift, you're going to get the most of 3DXChat. This combo provides the best virtual sex experience one can get right now. While the headset puts you into the game world and blends the line between you and your avatar, Vstroker does a great job of stimulating your penis in perfect sync with the action. What you feel is as close to the real thing as it gets without actually having sex.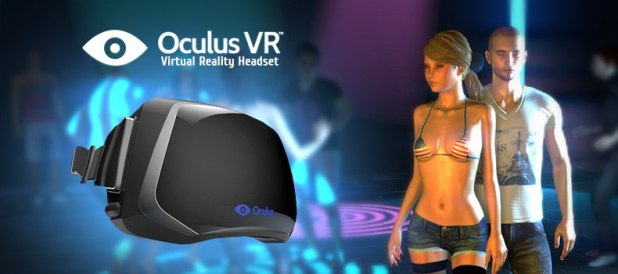 3DXChat is being updated weekly with brand new content to spice up your social experience and make sure you will never get bored with it. Some of the features that come with those content updates include new sex poses and means of interaction with other players, animations, customization updates (hairstyles, makeup, home materials, etc) and new fashion items, locations that expand the game world even more, and even minigames and activities (such as different sports, parties, etc). There's a ton of features and content available right now and we are excited to see what they have in store for future updates.
Talking about subscription plans. There are three of them for this game alone. Which is a good thing. One month subscription will cost you $19.95. You can evaluate the game and it's features, then decide if you want to keep playing it and switch to a better plan. However, if you want to save some bucks, there are six ($59.95) and twelve ($91.95) month plans.
But there is more. If you're interested in other games from Sex Game Devil, why not take advantage of their limited special deal? You can play their entire lineup of sex games for only $29.95 a month. How about that? The deal grants you access to all items listed below:
3DXChat (Online 3D Virtual Sex Game)
Juliet Sex Session (3D Sex Game)
Venus Hostage (3D Adult Adventure Game)
Nemo's Whores (3D Sex Game)
Night Party (3D Adult Quest Game)
Sex Warrior (3D Adult First Person Shooter Game)
Anal Masters (Adult Arcade Game)
BONUS: Extra Adult Games for FREE (there are about 20 of them)
All UPDATES for no additional charge
So all in all for your bucks you can get instant access to 25+ games. Quite an offer. Make sure to use it while it lasts.
Note that all subscriptions are recurring and last until cancelled.
Visit Official Website
Screenshots: