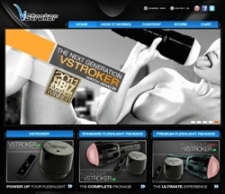 VStroker
Currently, there are several devices which let you experience different kinds of sex, getting you in the action instead of just watching your favourite adult stars onscreen or playing 3d sex games. The working principle of these sophisticated devices is quite simple. They monitor the speed and intensity of the movements onscreen (while you watch your porn or play a 3d sex game) and translate it to the device or vice versa.
Vstroker (Virtual Stroker) is one of the most advanced sex systems of it's kind. It easily connects to your computer via USB and requires no external power or battery replacement. It's remarkably easy to use. You don't need to download any software, it works as it is – just connect it to your PC and download your favourite media from the Members Area. Moreover, it works with most popular male sex toys, including Fleshlight. So if you already own a Fleshlight – just attach it to the device and you are ready to go.
How it works. Vstroker monitors the movement of your penis inside the Fleshlight and syncronises the movement onscreen accordingly. The harder you fuck the toy, the harder the babe on screen gets drilled. It may sound simple, but it really creates the required participation effect. You'll start thinking that you are actually fucking the girl on screen in no time.
The price tag is $129.95 for the package with Fleshlight. If you already own a Fleshlight, you can order Vstroker (with Fleshlight attachment) for only $69.95. Both packages include a free 14 days subscription to the Members Area with lots of high quality content.
Visit Official Website
Screenshots: