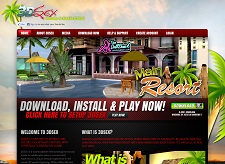 3D Sex
3D Sex is a fresh game developed by Virtual Encounters Inc., and it's definitely one of the best and most interesting games of it's kind. Let us see why.
3D Sex is a real-life simulation game centered around virtual sex and erotic adventures. Graphically, it looks a bit like The Sims games. If you played any of those, then you have probably imagined how great it would be if they ever released an online version of it, where you could take full control of your avatar, connect with your friends from all over the world and interact with their characters. Well, now you can have that kind of fun!
3D Sex is a virtual world that consists of four tropic island resorts (Main Resort, Gay Resort, Fetish Resort and Swingers Resort) with many different locations to explore, such as beaches, clubs, bars and shops. Some locations offer mini-games, livecam streams from various pornsites, etc. So there is more to do besides having sex. As you can see, each island is suited to different player's needs – if you prefer men over women or want to act out a fetish, just pick the right resort and you'll feel like home. If you are a free player you will only be able to access the Main Resort, VIP players can switch between all of them anytime.
Other things that make this game stand out among similar products are customization, endless supply of content and economy. Players can buy things such as clothes, tattoos and props, rent or buy virtual spots (apartments) and of course design and create their own items (with unique models, textures and animations), which they can keep or sell later to make some cash. So, basically, you can fully customize your avatar, build and design your own apartment and even create your own personal line of clothing! What's there not to like? The virtual currency of 3D Sex is called Clams. You can buy other players gifts, exchange Clams for various services, including working girls/guys, etc. You can buy/sell and even earn Clams by performing various actions on the 3D Sex website (such as rating and posting pictures, blogs, bulletins of your own, or another member). Moreover, you can use Clams to upgrade yourself to VIP status.
Unlike other similar products, 3D Sex doesn't hide it's main theme under a thick layer of social gameplay or dive deep into the real-life simulation thing. It is what it is and sex in this game happens literally everywhere you go, so you'll surely get what you came for in no time. There's a great number of ways to experience it, basically each location or object in the game offers new positions. Some of the actions available to players are massaging, dancing, having sex in a bed, with a group, standing, etc. You can change positions and moves during those actions on the fly.
We have already noted that graphically the game looks a bit like The Sims. It's not exactly so, of course. And you can see it from the screenshots. While they share some visual similarities, 3D Sex doesn't have those amazing looks of the latest games from the mentioned series. Graphics in this game are actually quite dated and cheap-looking. But it's the case with most MMOs. It makes up for the download size, and if you own a low-end PC, you'll be able to run it just fine. 3D Sex is really amazing and a lot of fun, so don't let it stop you from playing it. Otherwise, if you are looking for something more visually pleasing, you should probably pick something else.
Visit Official Website
Screenshots: